STRONG
Constructed from 3/4″ Cabinet Grade Plywood and HD Aluminum.
DURABLE
Coated with RHINO Spray-on Bedliner and fitted perfectly to your jeep.
SECURE
Securely bolted to your Jeep at 3 points, only accessible from your back gate.
Motorhead Garage on MotorTrend TV Debuts the Jeep Dash Poncho
Motorhead Garage on MotorTrend TV talks with Jon Foerster, owner of JFTops and the Jeep Dash Poncho.
Protect your investments and your peace of mind. Go ahead, go topless, our Jeep Dash Poncho has you covered.
LITERALLY.
About
As an avid outdoor adventurer, I often found myself with the top off my Jeep with no secure method of keeping gear safe. Requiring a passenger to stay behind while shopping or getting supplies to keep watch was not the answer. With that, designing the JFTops bed topper was the solution.
The JFTops bed topper was designed with 3 key elements in mind:

strength, durability, and security.

The JFTops bed topper needed to be strong and resist possible intrusion, durable to resist weather and wear, and secure to keep gear safe with no worries. If a JFTops bed topper is something you've been missing, contact us today!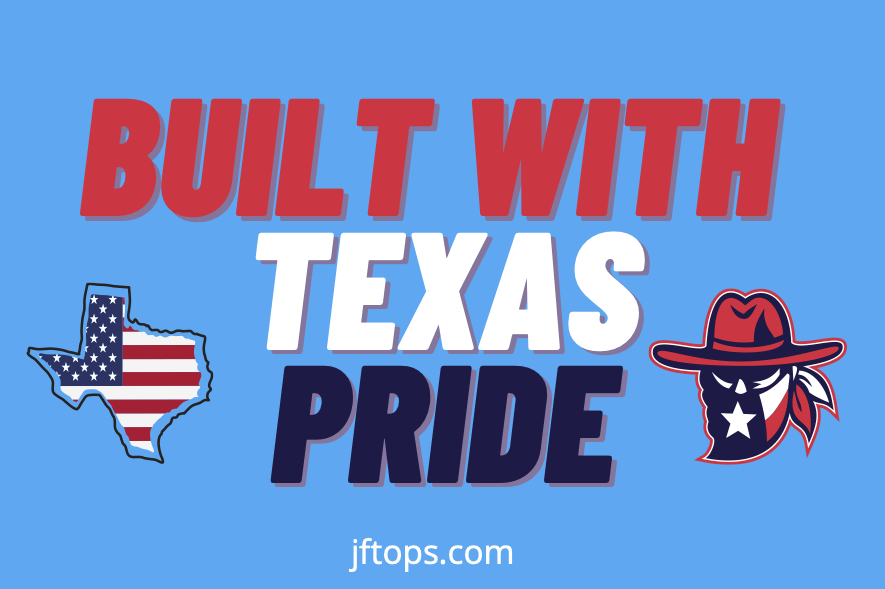 Frequently Asked Questions
HOW IS THE JFTOPS BED TOPPER INSTALLED?
The JFTops bed topper is mounted using slots available on your Jeep, some models require an additional mounting modification.
WHAT IS THE JFTOPS BED TOPPER MADE OUT OF?
The JFTops bed topper is constructed out of 3/4″ cabinet grade plywood with an HD aluminum H-channel and coated in RHINO spray-on bedliner.
HOW MANY PIECES MAKE UP JFTOPS BED TOPPERS?
The JFTops bed topper is three pieces, two parts to create the bed platform and a security back board.
WHAT WEIGHT CAN THE JFTOPS BED TOPPER HOLD?
The JFTops bed topper is rated for approximately 150lbs, with secure D-rings rated at 1000lbs.
CAN YOU CUSTOMIZE A TOP?
Custom JFTops bed toppers accommodate a seat recline kit, slant back soft tops, and other needs can be requested. Custom orders incur a $75 fee.
HOW LONG IS THE INSTALLATION?
The JFTops bed topper initial installation time is +/-10 minutes. Any removal/install after is +/- 3 minutes.
CAN MY CHILD OR PET FIT UNDER THE BED TOPPER?
it is NOT recommended to put your child, dog, cat, or any animal or person under the bed topper.
WHAT IS YOUR RETURN POLICY?
This has only happened once. (Buyer wanted to put their pet in the back) and we don't recommend this, so we do charge a 15% restocking fee and the cost of shipping should you want to return our bed topper.
ARE YOU CREATING A JFTOPS BED TOPPER FOR THE JEEP JT GLADIATOR?
No. We are not planning to create bed toppers for the JT Gladiator.
WILL YOU OFFER A JFTOPS BED TOPPER FOR THE 2021 NEW FORD BRONCO?
Yes. We are working on the design and will be announcing soon when it's available.
CAN THE DASH PONCHO FIT OLDER JEEP MODELS?
The JK / JKU version is the best universal fit for older models, such as the TJ, YJ, and CJ Jeeps.
FOR JK & JL TWO DOOR MODELS, IS THE INSTALL DIFFERENT?
We recommend for BEST fit and SECURITY, two (2) holes should be drilled in the bedrail of your Jeep to secure the front of the bed topper. It can be installed without; however, we highly recommend drilling the holes for the absolute best fit and strong, secure seal.
WHEN WILL THE DASH PONCHO BE AVAILABLE AND SHIPPED?
Our Dash Poncho is now available! Our dealers' orders are being customized and arriving soon. Go ahead and treat yourself. You deserve it.
Shipping fees are extra and calculated at checkout in 4 easy steps.
1. Add bed topper Dash Poncho, or accessories to cart. 2. Calculate shipping. 3. Enter billing information, Jeep year, model, top type, and any modifications for JFTops order. 4. View the final cart price and checkout. Boom! Your new JFTOP or Dash Poncho will be confirmed and on its way.
Easy Install, Perfect Fit
Overview of JFTops and How to install your Bed Topper and Security Board. The JFTops tonneau covers the entire cargo area for your Jeep. Purpose-built by a Jeep owner who was fed-up with bulky, heavy, expensive security enclosures.
JLU 4-Door Soft Top Tonneau Bed Cover Topper Install
Checkout out our JLU-Soft Top bed topper installation video.
Join us. We'll only send cool stuff
Hey there! Let's stay in touch with the latest product updates, specials, and events we will be attending. We would love to meet you in person if we are in your area.
JFTops Gallery
Our JFTops sleek design that is both functional and affordable. 10 minutes to install and 3 minutes to uninstall, makes the JFTops tonneau bed topper, your first choice in securing your gear in the rear.
You get the privacy you need without having to worry about your belongings getting hijacked when you need to make a stop or want to go on an adventure outside the Jeep.
Contact
Interested in a JFTops bed topper? Contact us today!
Have specific questions? Give us a call at 940.600.8344